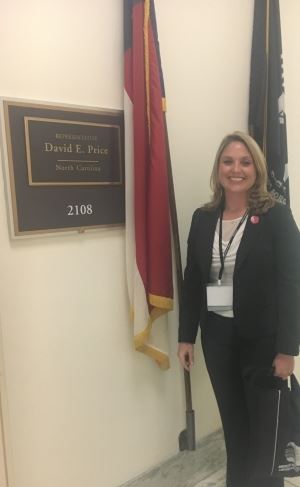 Attorneys Gigi Gardner and Nam Douglass, members of the American Immigration Lawyers Association (AILA) recently traveled to Washington, DC to share the contributions of immigrants to North Carolina with members of Congress and explain the impact of the anti-immigrant policies implemented by the Trump administration.
"These new policies are doing serious harm to North Carolina families and businesses. The Trump administration has implemented numerous policies to restrict and slow the pace of legal immigration, rescinded the Deferred Action for Childhood Arrivals (DACA) program, and increased the use of harsh enforcement tactics, separating families with longstanding ties to the US. As part of AILA's National Day of Action, we urged Congress to pass much needed reforms to America's outdated immigration system and stop the implementation of policies that hurt North Carolina's businesses, families, and communities. Nam and I were proud to stand united with colleagues, clients, coalition partners, and other AILA members from around the country, asking Congress to lead on immigration and advance real solutions that will benefit all Americans," Gardner said.
On April 12, Gardner and Douglass visited the offices of Senator Tillis, Representative Foxx, Representative Holding, Representative Hudson, Representative Price, Representative Rouzer, and Representative Walker. At each meeting, they shared the experiences of their clients.
"Eight out of ten Americans support reform — that's an overwhelming majority calling for action," said Douglass. "Moreover, when the best and brightest from all over the world can come to America, bringing their creativity and innovative spirit with them and building new industries, that creates jobs and makes life better for all of us," Douglass concluded.